Preview this book
Preview:

100 pages

Total:

2331 pages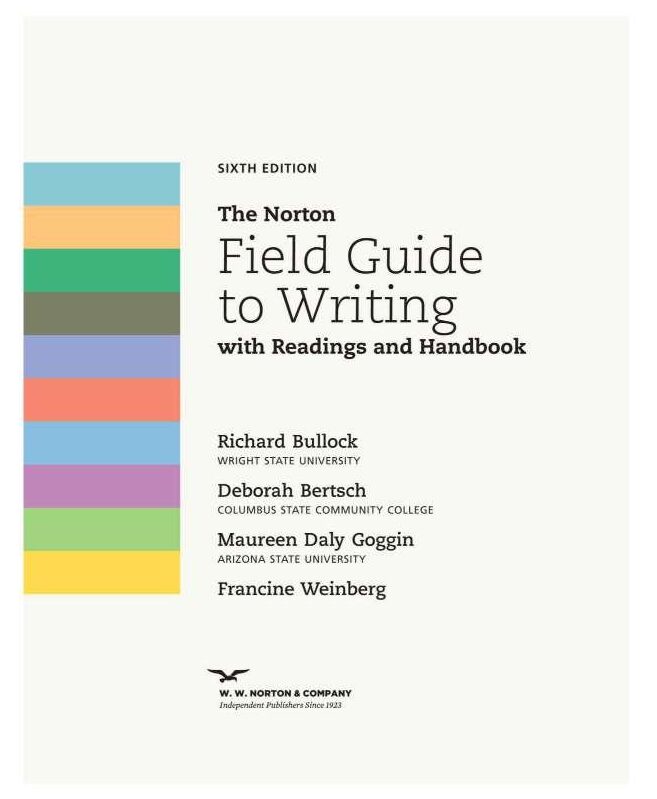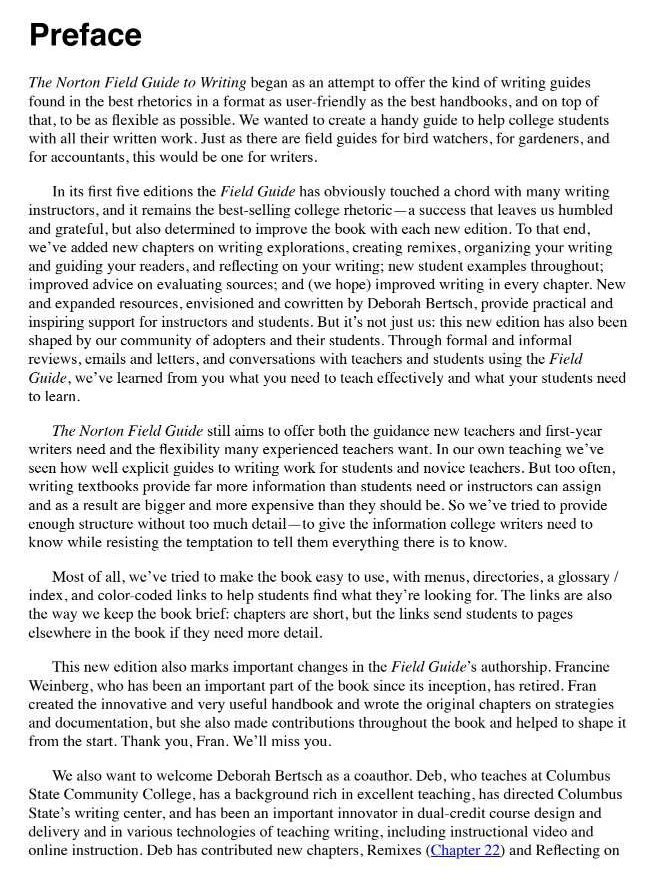 The Norton Field Guide to Writing with Readings and Handbook (Sixth Edition)
Authors
Richard Bullock (Author)
Deborah Bertsch (Author)
Maureen Daly Goggin (Author)
Francine Weinberg (Author)
Book Description
the norton field guide to writing 6th edition is available in eBook format, including "The Little Seagull Handbook" eBook, videos, and InQuizitive for Writers. It includes new content and features designed to assist students in adapting their writing to different rhetorical situations, with three new chapters: Remixes, Explorations, and Reflecting on Your Writing. The book offers a diverse range of readings, including contributions from students, providing fresh and inspiring sources for writing. Interactive activities and videos in InQuizitive for Writers help students understand and apply the book's advice. New instructor resources are included to address contemporary teaching challenges.
Authors' Backgrounds
Richard Bullock is an emeritus professor of English at Wright State University and has extensive experience in directing writing programs and designing writing curricula.
Deborah Bertsch is a Professor of English at Columbus State Community College, where she teaches composition and supports high school dual credit teachers.
Maureen Daly Goggin is a Professor of English at Arizona State University, with expertise in writing programs and rhetoric.
Francine Weinberg is an author and editor with over 30 years of experience working on English textbooks for college and high school students.
Product Details
Publisher: W. W. Norton & Company; Sixth edition (July 1, 2022)
Language: English
Paperback: 2331 pages
ISBN-10: 0393884139
ISBN-13: 978-0393884135
Item Weight: 3.25 pounds
Dimensions: 6.7 x 1.7 x 8.3 inches
Best Sellers Rank: #104,411 in Books (as of the provided information)
Categories: Ranked 12th in Creative Writing & Composition and 205th in Fiction Writing Reference
Customer Reviews: The book has a rating of 4.4 out of 5 stars, based on 119 ratings.