Preview this book
Preview:
100 pages
Total:
1524
pages
Patterns for College Writing 15th Edition
ISBN: 9781319243791
Publisher: Bedford/St. Martin's; 15th edition (October 1, 2020)
Language: English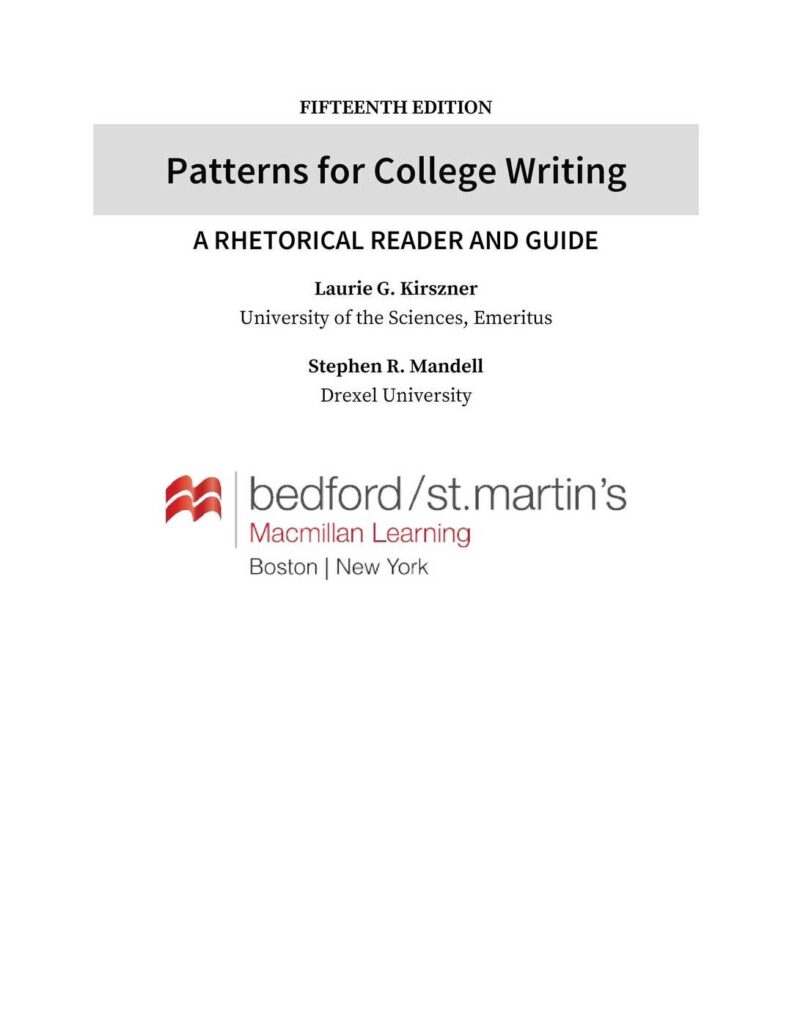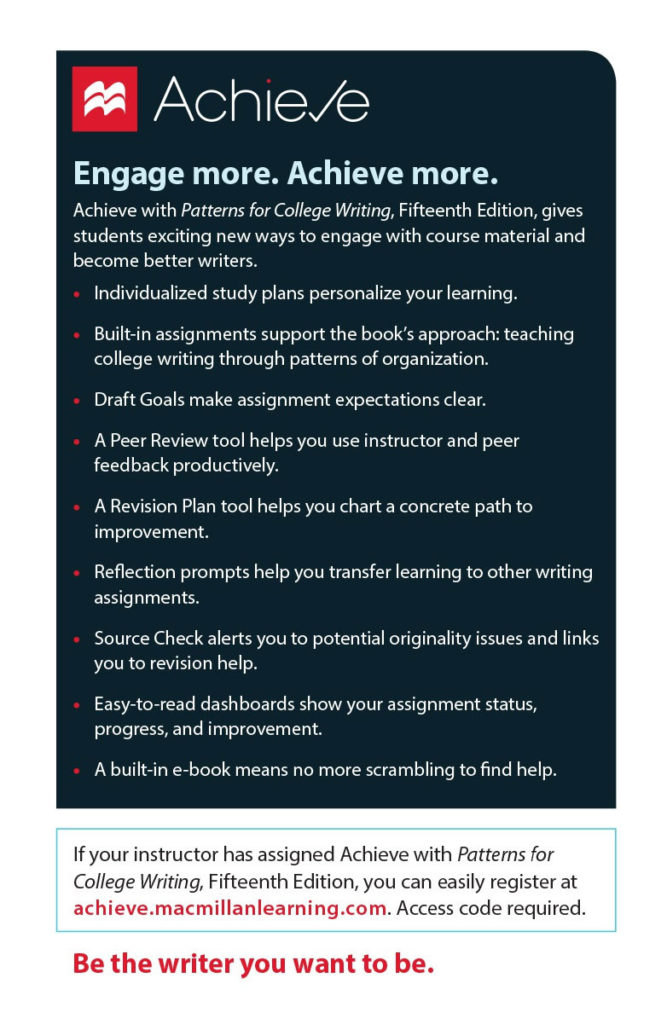 PREFACE to Patterns For College Writing A Rhetorical Reader And Guide 15th Edition
Since it was first published, Patterns for College Writing has been used by millions of students at colleges and universities across the United States. We are continually gratified by positive feedback from the many instructors who tell us that it is the most accessible and pedagogically sound rhetoric-reader they have used. For the fifteenth edition of Patterns, we have worked to retain everything that makes this book such a popular composition reader while updating it throughout to enhance its usefulness for both instructors and students, adding engaging new readings and visuals as well as coverage of additional topics, including working with sources.
What's New in Patterns For College Writing A Rhetorical Reader And Guide 15th Edition
Engaging New Readings
More than two dozen new professional essays offer perspectives on a variety of topics that students will find meaningful. For example, Farhad Manjoo explains why he wants people to call "Call Me 'They,'" Mindy Kaling explores the tropes and formulas around "Flick Chicks: A Guide to Women in the Movies," and Ray Fisman and Michael Luca ask "Did Free Pens Cause the Opioid Crisis?" In all cases, readings have been carefully selected for their high-interest subject matter as well as for their diverse voices, accessible writing style, and effectiveness as teachable models for student writing.
More Visual Texts
Patterns for College Writing now boosts its already-strong coverage of visual texts with visual arguments added to both casebooks in Chapter 14, "Argumentation," providing students with more instruction on how to read and write about the kinds of images they are likely to encounter in their everyday lives. The visual texts throughout the rest of the book have also been updated, and alongside thought-provoking photographs, we offer engaging graphic art from acclaimed creators like Alison Bechdel, Matt Groening, and Marjane Satrapi.
New Student Essays

Two brand-new student essays, "Steps to the Dream" and "Food Insecurity on Campus," address two topics that resonate across college campuses: how students can secure a paid internship and how students in need can access enough food to remain healthy and productive. Additional student sample essays are also available in our Student Companion text.